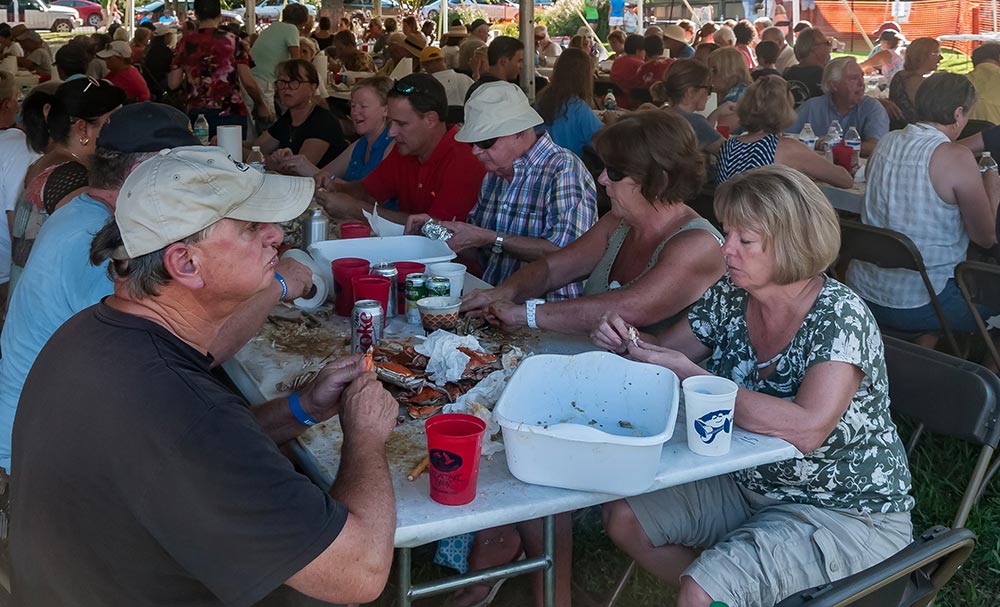 Tickets are limited for the Steamboat Era museum's largest yearly fundraising event The Irvington Crab Festival will be held on August 18 on the Irvington Commons. Guests will be seated under a large tent while enjoying crabs from Crabs Express. Doors open at 4pm and crabs are served at 5pm. The museum will be open and free during the event so you can learn about the Potomac Pilothouse projects, view the exhibits and stop in our gift shop!
Make sure you get to sit with all your friends! Purchase 20 tickets at one time and the museum will reserve a table for your group!
Tickets are $45 for adults and $10 for children 12 and under. Adult tickets will be $50 after July 16. Tickets are non-refundable and will not be sold at the door. Tickets may be purchased online here, by phone 438-6888, or at the museum Tuesday-Saturday 10am-4pm.
A big thank you to the Crab Festival sponsors, as of June 28 !
Big Claw: Chesapeake Bank and Virginia Commonwealth Bank Jimmie: 101.7 Bay FM and 104.9 WIGO Country, Northern Neck Insurance, Hope and Glory Inn and The Dog and Oyster Vineyard, Rappahannock Westminster – Canterbury and theTown of Irvington Soft Shell: Bay Auto Service, Inc., Creative DeSigns, Objects Art and More, Tides Inn and Tri-Star Supermarket, Inc. Old Bay: Brecher Design Group, Custom Yacht Services, Isabell K. Horsley Real Estate , Kilmarnock Auto Clinic, Pearl Clothing, Pillar & Peacock, Randall Kipp Architecture, Inc., Rappahannock Record, RiverLand Insurers, Sara Brown Salon, The Dandelion, The Wild Bunch/ Papeterie, W.F. Booth & Son, Inc., and White Stone Pharmacy. Friends: Cathy's Unique Pursuits, Rappahannock Hang-Ups and Rumsey and Bugg.
Sponsorship opportunities are still available. Please call 438-6888 for more information.
Photo: Picking crabs at the Irvington Crab Festival
Photo credit: Michael A Geissinger