fri6oct5:00 pm- 7:00 pmA New Book on Weems, Virginia is Set to Launch at the Steamboat Era Museum5:00 pm - 7:00 pm Events:Book Signing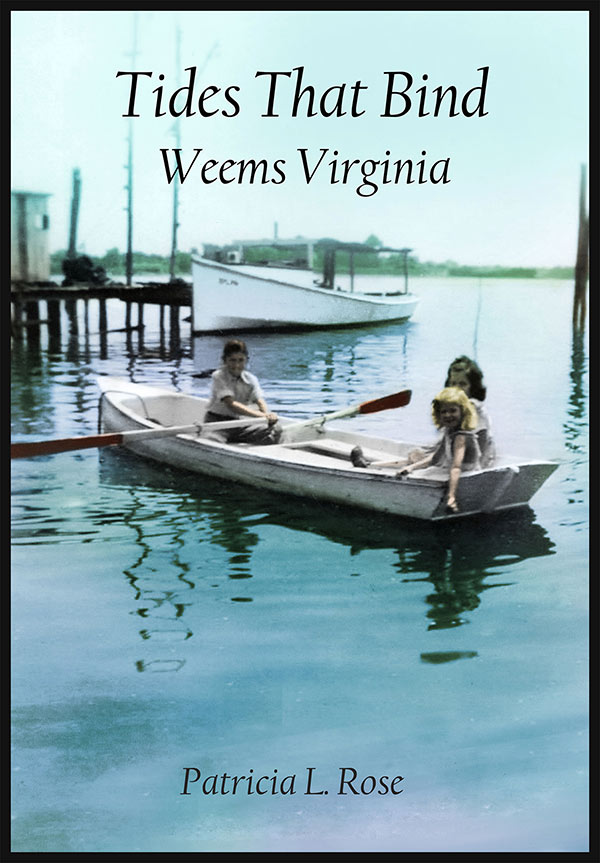 Event Details

The Steamboat Era Museum is proud to host the launch of the new book; Tides That Bind-Weems Virginia, by Pat Lumpkin Rose, with an author's talk and book signing on Friday, October 6, at 5pm. Ms. Rose will also sign books on Saturday, October 7, from 10am-2pm.The author's talk is free, but seats are limited. Please call 438-6888 or click to email director@steamboateramuseum.org to reserve a space. Both events will take place at the museum.

With the introduction of a book entitled TIDES THAT BIND-WEEMS VIRGINIA, Pat Lumpkin Rose is pleased to share reminiscences about growing up in the unique community of Weems. Placed within a historical and social context, she has compiled the treasured memories and memorabilia of the people of Weems who lived and worked together over many decades to form a kinship of the rarest kind. Pat acknowledges the deep impression the people and the land made upon her own life.

While researching, interviewing, and re-connecting with many second-generation individuals over a five-year period, she also discovered how incumbent their Weems connections were upon one another. Personal stories of success and failure amid vivid moments of caring and concern rise to the Weems story surface. All serve as a backdrop for families who labored long upon the fertile land and the bountiful waters that enclosed them.

The narrative style of writing lends itself to "set the scene" for each of the six-part book segments. From the "Time Before Us" to "Threads of Our Community" hundreds of personally selected photographs enhance the beauty of the area as well as the images of its people. Indeed, TIDES THAT BIND touches us, harbors us, and invites us to return to the familiarity of a place and time long ago that many individuals have called their "home."

Upon completion of a thirty-two year career in teaching, Pat Rose has continued to maintain a strong interest in educating and writing. She taught numerous classroom workshops upon self-publishing a fiction adventure children's novel entitled "Spirit of Blackfoot Country." Debuting in 2004 a memoir, "Anchored In America," has been presented in program format for many years. She has also submitted non-fiction article(s) in "Fun For Kidz," "Madison," "Pleasant Living Magazine," and "The House and Home Magazine."

With her latest book, "Tides That Bind-Weems Virginia," Pat draws from her own experiences as well as many others to revisit a time when Weems Virginia flourished upon the rise and fall of the tide. As a docent of the Virginia Historical Society for over twenty years, Pat enjoys guiding children and adults through the "Virginia Crossroads" exhibit. She resides in Midlothian, Virginia, returning to Weems when she can to enjoy the area and interact with family and friends.
Time

(Friday) 5:00 pm - 7:00 pm