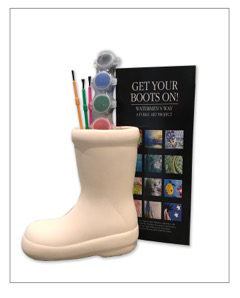 Paint Your Own Watermen's Boot!
15 pairs of four-foot boots painted by artists and located on the Northern Neck and Middle Pennisula represent the Watermen's Way project completed this past spring. The project led by Virginia's River Realm, Steamboat Era Museum, Rappahannock Art Center and Lancaster Chamber of Commerce is a tribute to the Watermen and women of the Chesapeake Bay.
The museum is offering you a chance to create your own Watermen's Way boot. Available exclusively at the Marketplace is a 6″ white ceramic boot with paints and brushes all packaged for holiday giving.
$12. Supply is limited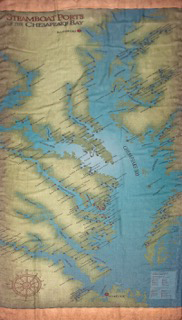 Chesapeake Bay Scarf
A vintage style map of the Chesapeake Bay showing steamboat ports, based on a large map at the museum, is presented on a 72″ x 30″ scarf. The soft and drapey scarf, made of 100% soft polyester voile, is easy to wear in different ways and shows the entire Bay from Baltimore to Norfolk. All the Bay towns with steamboat wharves are identified. Show your friends and family where you live or like to visit.
$36. Supply is limited