Story of the Pilothouse
The Steamboat Era Museum is proud to include as its most valuable artifact in its collection, the largest surviving remnant of the Chesapeake Bay steamboat era – the pilot house from the steamer "Potomac". The pilot house was the steamboat's upper most structure which consisted of the wheel house, captain's quarters, and crew quarters.
The Potomac was built in 1894 by the Neafie & Levy Shipyard in Philadelphia, PA. She was 176 feet in length and 41 feet at the beam with 37 staterooms and a crew of 36. She served 42 years in freight and passenger service, initially between Baltimore and the Potomac River. In her later years of service under different ownership, the Potomac also served between Baltimore and Norfolk, Virginia, including stops along the Rappahannock River.
In February, 1936 the Potomac was forced into retirement when her stern was badly damaged after a collision with a freighter in icy waters in the dark of night. In 1938, the Potomac was sold to the Colonna Shipyard in Berkley, Virginia at which time it was disassembled and her haul was made into a barge to carry pulpwood for the paper mill in West Point, Virginia. However, the pilot house structure was saved by the shipyard owners, Capt. Bill and Willoughby Colonna, who barged the structure up the Rappahannock River where his family used it as a summer cottage at Taft's Beach for over 40 years.
Today, the pilot house is beginning another new journey. After years of neglect and decay, the structure was acquired by the museum and is now in the early stages of an extensive 3-year restoration project, scheduled for completion in late 2018. When completed, this artifact will serve as a living example of how the steamboat served to change and mold the culture and heritage of those living along the 11,684 miles of shoreline of the Chesapeake Bay and its tributaries.
The museum has begun a major capital campaign to raise funds for this historic project which will cost $350,000 to complete. The restored pilot house will serve as the museum's main exhibit and will become the only place in America where visitors and researchers can step aboard the last surviving intact structure from a Chesapeake Bay steamboat from the era of 1813 to 1937.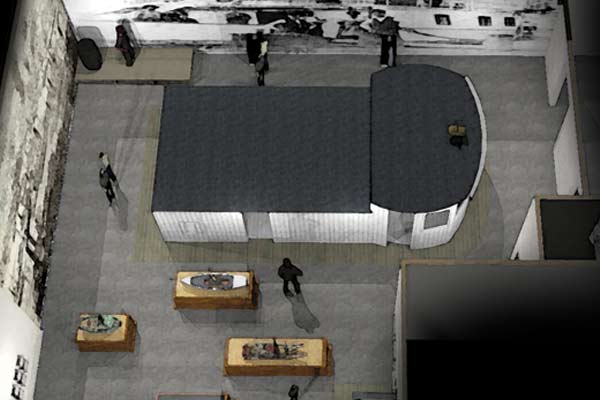 The Pilothouse is scheduled to be placed in the museum in the Fall of  2018.